How To Find And Integrate Hot Tub Playlists And Podcasts Into Your Soaks
Relaxing in your hot tub and listening to your favorite music or podcast is a wonderful experience for when you want a bit of sound to soothe the soul while the warm spa water eases your body tension. Not too long ago, listening to music while enjoying a soak meant climbing out of your spa, drying off, and heading inside your home to turn on your sound system. When you wanted to hear a different song or change the station, you'd have repeat that process.
Not anymore.
Today's high-quality spas include speakers integrated into the bar top and, through the magic of spa-integrated Bluetooth® technology, allow you access your favorite hot tub playlist and hot tub podcast directly from your phone or other mobile device.
FIND THE PERFECT HOT TUB PLAYLISTS AND PODCASTS FOR YOUR LIFESTYLE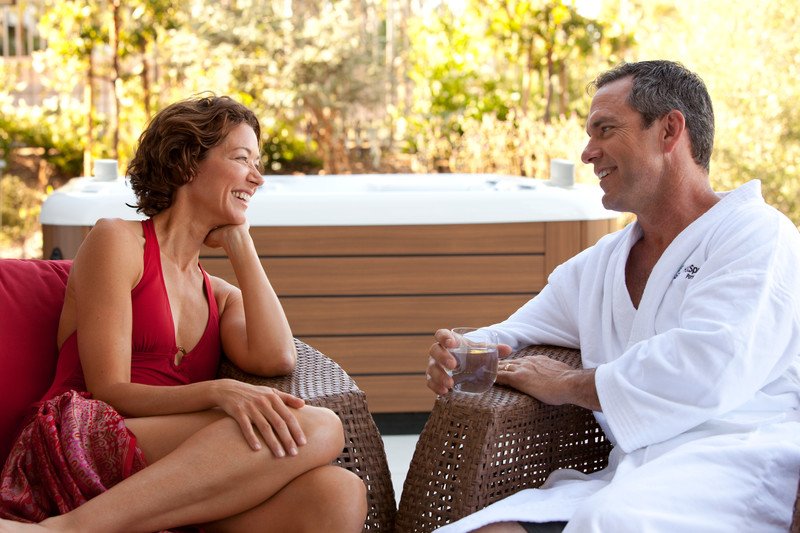 When it comes to finding great hot tub music genres, you already know your favorite songs and artists. But did you know that a selection of hot tub playlists to suit different tastes are offered on several music apps?
Discovering your hot tub relaxation soundtrack is easy. Apple's iTunes store features millions of songs and podcasts—literally. iTunes comes installed on Apple devices and can be downloaded for use on PCs and Android devices. Android users and others may prefer to use Spotify and Soundcloud, or simply search Google to find songs and podcasts available across devices. If you can't find something you like, create your own playlist. It's simple: For Spotify, create an account, go into your library, create a playlist, and then search for the songs you'd like to add.
Athletes who use their hot tubs for hydrotherapy before or after a workout might enjoy a range of music—everything from cheerful pop hits to hardcore speed metal. Hot-tubbers looking for stress relief after a hard day at work may prefer something a little more relaxing, such as instrumentals or arias of classic operas. On days you want to improve family connections, you might choose a soundtrack of soothing classics that includes ol' blue eyes himself, Frank Sinatra.
Podcast preferences are a matter of personal taste, too, and the choices are endless. Intellectuals might choose to engage their minds with the weekly This American Life podcast or The Moth Radio Hour while soaking. Everyday gourmets may prefer to pick up some recipes and cooking tips from Gastropod. Fans of both true crime and fine vintages might want to explore the Wine & Crime Podcast.
Whatever your listening pleasure, the key to enjoying music and podcasts with your daily soaks is choosing a spa that easily integrates with your devices.
THE BEST SPAS FOR PLAYLIST AND PODCAST LISTENING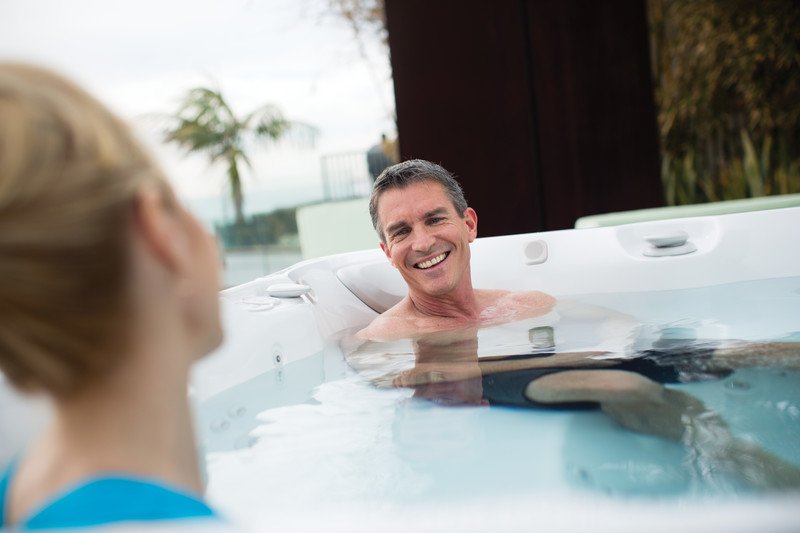 Spa-integrated speakers are offered by a number of hot tub manufacturers. When you opt for a music-ready model from the Highlife® Collection, the Limelight® Collection, or the Hot Spot® Collection from Hot Spring®, for example, you get built-in factory speakers. A music-ready spa from Hot Spring can be equipped with an optional wireless audio system that allows for Bluetooth® connectivity.
On Highlife NXT Collection models, the touchscreen spa control panel is waterproof and detachable, allowing for a great deal of flexibility. You can change your listening tracks and more, including the spa temperature and jet setting, remotely—without ever leaving the spa. A Bluetooth® wireless spa audio system is very easy to set up and pair with your device.
Discover the wireless entertainment options available with Hot Spring hot tubs.
PAIRING YOUR DEVICE TO PLAY YOUR FAVORITE HOT TUB PLAYLISTS AND PODCASTS ON HIGHLIFE® COLLECTION MODELS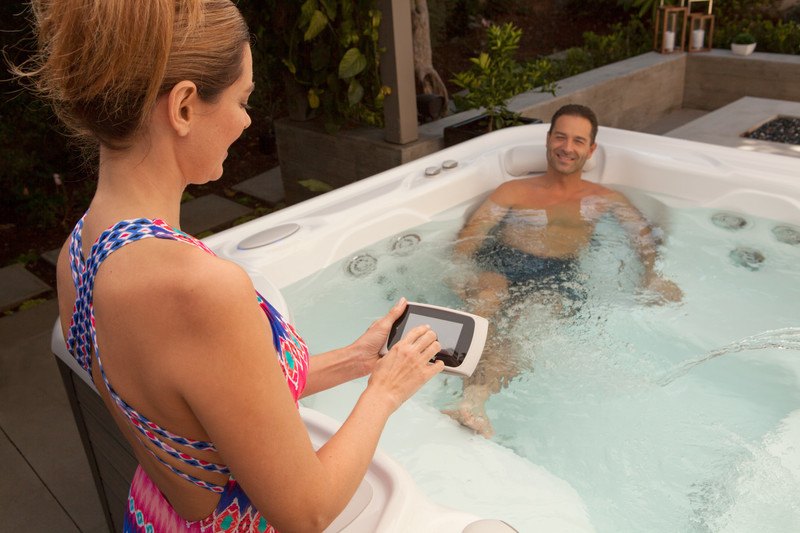 The process to pair a Hot Spring spa with a Bluetooth®-enabled device is very easy and intuitive. With the top-tier Highlife Collection, for example, it takes just a matter of seconds:
Press the ♫ button on the home screen to bring up the Music System screen.
Press the power icon on the Music System screen to power on the sound system.
The Music Player screen will appear with the standard TRACK DOWN, PLAY, PAUSE, and TRACK UPbuttons, as well as a volume display beneath. Below the volume display is the Music SourceSELECTION BOX.
Tap the source SELECTION BOX to bring up the Music Source screen, and then choose BLUETOOTH from the options.
Enable Bluetooth® on your device. (This process will vary depending on the model and manufacturer of the device.)
Wait for My Spa BTXR to appear on the device screen. Select it and allow it to pair with your device.
Bluetooth® pairing of your spa and your device is a great example of how improved hot tub technology makes for an even more comfortable spa experience.
ENTERTAINMENT OPTIONS INTEGRATED INTO THE SPA EXPERIENCE
Bluetooth® integration is just one of the many ways in which Hot Spring creates The Absolute Best Hot Tub Ownership Experience®. The sophisticated remote control technology of Highlife Collection spas makes adjusting spa settings easier than ever. Add our waterproof spa-side HD TV monitor and not only can you enjoy your hot tub playlists and podcasts during your soak, but also your favorite movies and television shows.
We have been manufacturing hot tubs for over 40 years and lead in customer satisfaction.