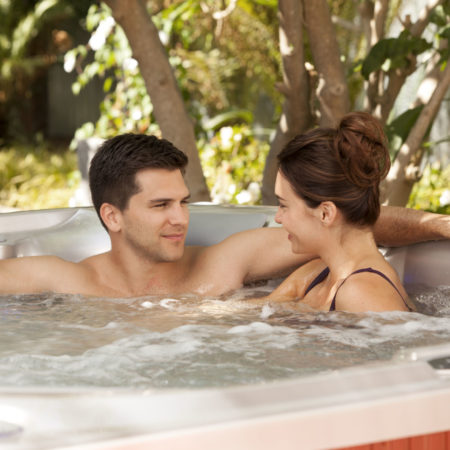 There are three factors at work in a spa: heat, buoyancy and massage. Working together, they create a totally relaxing hydromassage experience. The heat in a hot tub raises your body temperature, increasing circulation. The buoyancy of the hot tub reduces your body weight by 90%*, relieving pressure on muscles and joints with a relaxing sensation of weightlessness. Through relaxing massage, our customers have reported that they experience the following benefits:
Relief of tension in muscles and joints
Temporary relief of aches and pains
Decreased anxiety and stress
Total, full-body relaxation
We design our spas for the very best massage experience. Our innovative, patented jets are designed for specific muscle groups, and deliver powerful streams of water that you can customize to your desired pressure. Plus, our SmartJet® system reduces energy costs by using only as much power as you really need.
The Moto-Massage® DX jet has revolutionized hydrotherapy. This unique moving jet delivers two powerful streams of warm water that sweep up and down the length your back. This one-of-a-kind back massage is only available from Hot Spring, and is included on select models.