Protecting Your Hot Tub In The Rain And Other Inclement Weather
Hot tubbing in light rain is among the more pleasant experiences in life. The warm water of the spa soothes your muscles and joints, and relaxes your mind as a gentle rain falls on your face. Hot tubbing in the snow offers a similar experience. Watching the snowflakes dance into the water as you feel the day's tension leave your body is incredibly satisfying. So, a little weather during your soak can definitely be a good thing. But is it good for your hot tub?
An outdoor spa is exposed to the elements, and over time—a lot of time—it will naturally become weathered. A durable cover and other hot tub accessories will protect your hot tub in the rain, snow, sunlight, sleet, cold, and hail year after year.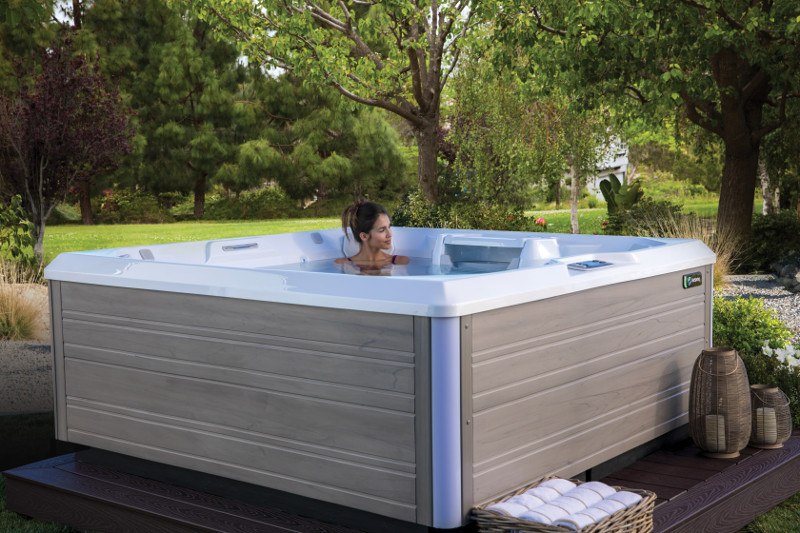 HOW YOUR HOT TUB CABINET AND SYSTEMS ARE PROTECTED IN THE RAIN
High-quality hot tubs have well-designed components, which are manufactured with materials that stand up to harsh weather over a long period of time. Superior cabinets are waterproof and made of weather-resistant, UV-resistant synthetic materials to prevent fading or bleaching due to sun exposure and to maintain energy efficiency, especially in cold climates. The best-insulated hot tubs have multi-layered, full foam insulation that lends flexible structural support to the spa, which is particularly useful since the hot tub's structure expands and contracts with changes in temperature.
Most important, cabinet insulation protects the spa's interior components from damage due to rain, snow, other types of weather, and even humidity. Without protection, ambient humidity—particularly in salty-air, seaside locations—can wear on spa parts (the heater casing, pumps, and electrical connections) that may be exposed to the elements.
Discover the revolutionary spa jet systems available from Hot Spring®.
A hot tub is a large investment, so in addition to making sure you purchase a spa with weather-resistant materials, take care of it after bouts of harsh weather. When snow piles around the spa cabinet, shovel it away. When snow mounds or drifts onto the cover, brush it off. If standing water accumulates around the hot tub after a rainstorm, consider digging a drainage ditch. And, in the hot sun of summer, use an umbrella to shield yourself and your hot tub from the worst UV rays as you enjoy the health benefits of your soaks.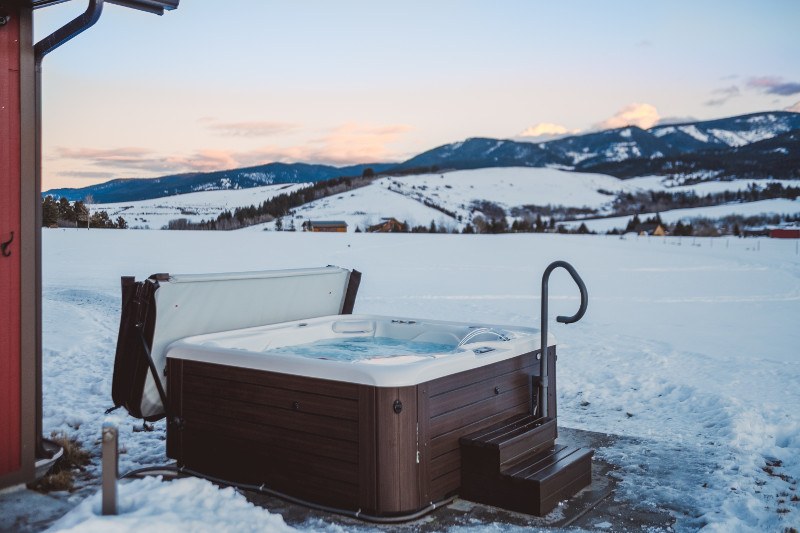 A DURABLE SPA COVER, COVER LIFTER, AND UMBRELLA WILL PROTECT YOUR HOT TUB IN THE RAIN
A spa cover, cover lifter, and umbrella will protect your hot tub year-round. A top quality spa, including every Hot Spring® spa, will come with a cover that should be used whenever the hot tub isn't occupied.
Your cover is on the front line in the battle against sun rays, snow, and rain, so you'll want one constructed of durable, weather-resistant materials, such as heavy-duty vinyl. The cover casing should be thick and tear-resistant, but with a little give to absorb the impact of hail. And its insulation should be dense enough to trap the spa's heat, even in temperatures below freezing.
A high-quality spa cover is heavy and difficult to move. For that reason, you might choose to use it less. But that decision could cost you. When your spa is left uncovered, heat escapes and its shell is exposed to the fading properties of the sun. So, it's wise to invest in a hot tub cover lifter.
A cover lifter assists you as you lift, fold, or slide the cover off your spa. Of course, your cover lifter will also be exposed to the weather. All Hot Spring cover lifters are designed for seamless integration with our custom-fit spa covers, so there's no unsightly metal bar protruding above the spa. Instead, the bar is tucked inside the cover and protected from the elements.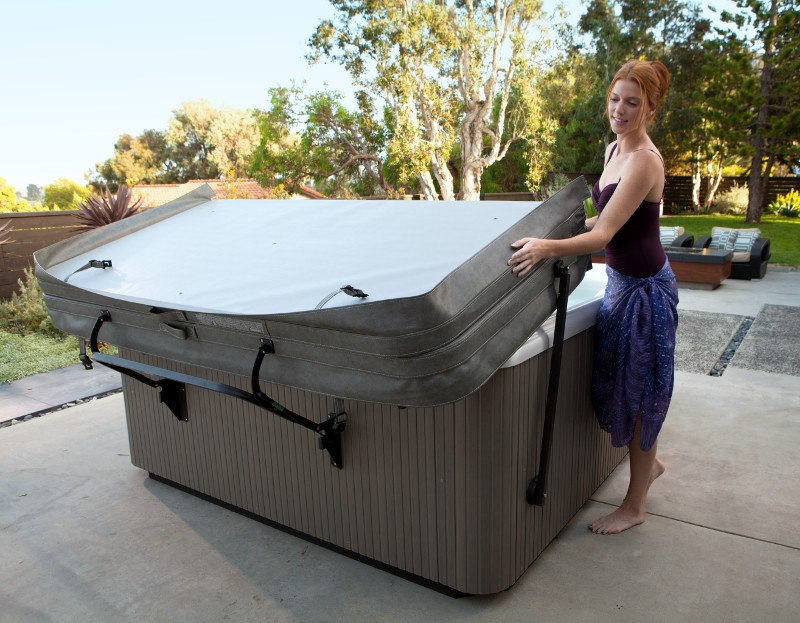 For even more weather protection, consider investing in a hot tub umbrella. A weighted, spa-side umbrella effectively shades you while you're in your hot tub and protects you from the elements during a soak. Your hot tub cover protects the shell from the effects of the sun and should always be used when the spa is not occupied.
When shopping for a spa, choose one that's made with high-quality, durable materials. With the right home spa and the best weather-resistant accessories, you can enjoy delightful soaks in the snow, drizzle, and sun, day after day, year after year, for as long as you own your hot tub.
We build our hot tubs to last. Our Everwood® cabinets resist the rain and the sun's harmful rays. Full foam insulation keeps your Hot Spring spa water hot, even in the cold, and our heavy-duty covers trap the heat and beat the sleet. To see pricing information, request a quote.